Beat the Heat: The Ultimate Guide to Staying Cool at SeaWorld Orlando
August 22, 2023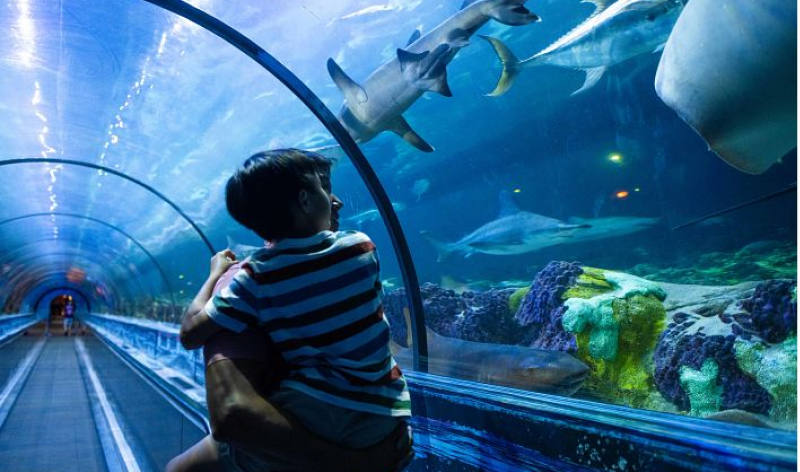 When visiting SeaWorld Orlando, the thrilling rides, captivating shows, and incredible marine life encounters are sure to leave you with unforgettable memories. However, with the Florida sunshine, it's essential to beat the heat and stay cool throughout your day at the park. In this blog, we'll explore six fantastic ways to keep cool at SeaWorld Orlando, ensuring you have a refreshing and enjoyable experience.
Water Rides and Splash Zones:
One of the best ways to beat the heat at SeaWorld Orlando is by experiencing the park's exhilarating water rides. Journey to Atlantis, a combination water coaster and dark ride, will not only provide thrills but also cool splashes of water throughout the journey. Next, take a moment to explore Infinity Falls, SeaWorld's white-water rafting journey that sends you plummeting down while being surrounded by beautiful landscapes and captivating waterfalls. Moreover, be sure to explore one of my favorite splash zones in the park perfect for all ages- Sesame Street Land's Rubber Duckie Water Works.
Indoor Animal Exhibits:
Take advantage of SeaWorld Orlando's mesmerizing exhibits, where you can marvel at incredible animals while enjoying the coolness of the exhibits. The Manta Aquarium provides an immersive experience with thousands of colorful fish, rays, and even sharks. Or go on a journey up north to the Wild Arctic exhibit and witness majestic beluga whales, walruses, and playful seals while enjoying the chilling air inside an arctic research station. Finally, be sure explore the frozen wonderland Antarctica, the perfect cool escape with five different species of penguins.
Shaded Areas and Shows:
When the heat becomes intense, seek refuge in the many shaded areas throughout the park. These areas provide a temporary respite from the sun and allow you to cool down. Enjoy a picnic under the shade of trees in designated seating areas or take a stroll through beautiful, lush green spaces. Furthermore, SeaWorld Orlando offers a wide range of covered shows and presentations, such as Orca Encounter, Dolphin Adventures, and Sea Lion & Otter Spotlight. These presentations not only offer entertainment and learning, but also provide a cool break from the outdoor heat.
Restaurants, Cool Treats, and Refreshing Beverages:
Try one of the delicious restaurants like Sharks Underwater Grill & Bar, Flamecraft Bar, and plenty more where you can sit, fill up, and cool down. Indulge in a variety of delicious cool treats and refreshing beverages available throughout SeaWorld Orlando. From ice cream cones and frozen treats to slushies and chilled drinks, there are plenty of options to satisfy your cravings and beat the heat. Treat yourself to a classic soft-serve cone, grab a frozen lemonade, or sip on a cold beverage while strolling through the park. These treats will not only cool you down but also add a delightful touch to your SeaWorld experience.
Indoor Shows
At SeaWorld Orlando, you have the perfect escape from the sun's rays with two inviting indoor theaters with live shows. Nautilus Theater, an air-conditioned venue with everything you need to experience a break from the Florida sun and rain. Also, you can find Seaport Theater, where you can immerse yourself in live entertainment while comfortably escaping the heat. You really can't get a better place to be than this!
Water Parks and Splash Areas:
For those seeking an ultimate cooling experience, Aquatica, located adjacent to the main park, offers a range of thrilling water slides, lazy rivers, wave pools, and splash areas. Spend a day at Aquatica to fully immerse yourself in water-based adventures and endless opportunities to cool off. Whether you're speeding down a water slide or floating along a lazy river, the nation's #1 outdoor water park provides the perfect respite from the Florida heat. Upgrade your ticket to include Aquatica on your SeaWorld trip, or, upgrade to an annual pass for unlimited visits to both Aquatica and SeaWorld.
Conclusion:
As you embark on your SeaWorld Orlando adventure, keeping cool in the Florida sun is essential to maximize your enjoyment. By following these six tips, you'll be well-equipped to beat the heat and stay refreshed throughout your visit. So, dive into the water rides, explore the aquatic exhibits, seek shelter in shaded areas, indulge in cool treats, and venture into the water parks and splash areas. With these strategies, you can create lasting memories while keeping cool at SeaWorld Orlando.