Beyond the Brews: Exploring Exciting New Foods, Must-Try Delights, and More at the Craft Beer Festival!
August 10, 2023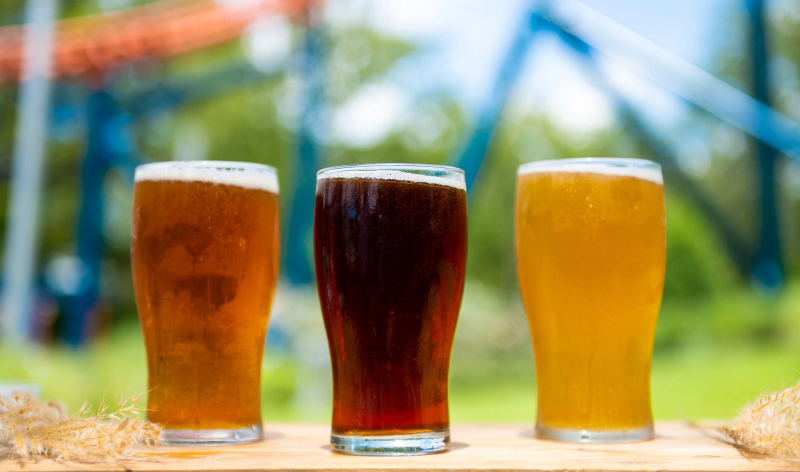 SeaWorld's Craft Beer Festival
Join in on the ultimate summer extravaganza at SeaWorld Orlando, with the Craft Beer Festival! As you enjoy the Craft Beer Festival, delight in jaw-dropping animal encounters and thrilling attractions during the day, followed by an electrifying night of Sumer Spectacular. Raise a glass at the Craft Beer Festival and then check out the mesmerizing firework show, Ignite. It's a blend of fun, flavors, and unforgettable moments you won't want to miss!
Make your Craft Beer Experience even better with a sampling lanyard. Indulge your taste buds while enjoying incredible savings! Experience an irresistible mix of over 100 domestic and local Florida favorites, perfectly complemented by a delectable selection of 20+ expertly paired new and returning food items, all tailored to match your preferred brew. Satisfy your cravings like never before at SeaWorld Orlando!


NEW Delicious Food Options!
Get ready to treat your taste buds at this year's Craft Beer Festival at SeaWorld Orlando! We're thrilled to present an irresistible array of new food options thoughtfully curated to perfectly complement our diverse selection of craft beers. From gourmet beer-infused Barbeque Pork Sliders to the mouthwatering indulgence of Churro Cheesecake, prepare to elevate your festival experience to a whole new level of deliciousness.
In addition to these delectable new offerings, we're excited to welcome back some festival favorites. Savor the classic Pretzel Wrapped Bratwurst, accompanied by zesty Beer Mustard, or indulge in our Maduro Brown Ale Cupcake, soaked in Jameson simple syrup. But that's not all - over 10 more delightful food options await!
Begin your day with the savory delight of the Pipeline Pretzel, served with gooey beer cheese at Café de Mar. Then head over to the Sam Adams Best Bites for the new Street Corn, topped with flaming hot Cheetos, followed by a slice of deep-fried Churro Cheesecake. As if that's not enough, spoil yourself with Crispy Wisconsin Sharp Cheddar Cheese Curds, Pulled Pork Sliders with a Jalapeno Slaw, and Boozy S'mores made with Hefeweizen Marshmallow Fluff at Brews and Chews! Go For the Grains will be bringing back the convenient walking taco with Cigar City-infused Chili and the Maduro Brown Ale Jameson Cupcake. Be sure to also try out their all new Michelada Shrimp Ceviche!
Make your way to Wish You Were Beer, where the offerings include 12-hour braised Pale Ale Short Rib Poutine, Pork Belly with Kimchi, and Milk Chocolate Kentucky Bourbon Pecan Pie. Don't miss Be Malty, Not Salty, which serves up a new Beer Mug Pretzel and Wisconsin Bratwurst, paired with IPA Beer Cheese. For the best of both worlds, indulge in their pretzel-wrapped bratwurst!
Finally, end your day on a sweet note with one of Donut Forget My Beer's gourmet donuts.
Along with the large selection of brews and bites, the Craft Beer Festival will also delight guests with exclusive tequila and wine tasting experiences! Make sure to visit Distilled Delights for an incredible selection of Mezcal offerings, or head to Off the Vine to savor an enticing variety of new wines.
With such a sensational fusion of flavors, your visit to SeaWorld is bound to be truly unforgettable. See you at the festival!
Must be 21 years of age or older to consume alcohol, please drink responsibly.
Sunny Day Guarantee
It's brew-tiful weather for a beer! However, rain can sometimes be here to stay on your vacation days. At SeaWorld Orlando, we are dedicated to providing the best possible experience for all our guests. If the rain dampens your park visit, no worries! We offer a special Sunny Day Guarantee commitment - guests will receive a complimentary return visit to be used within one year of their initial visit. Simply visit our Guest Services Counter or submit your information online, along with your original admission ticket or order number, to receive a Sunny Day Ticket. Please note that Annual Pass Members and certain ticket packages are not eligible for Sunny Day Tickets.