What's happening
Featured Event
Christmas Celebration
Where holiday traditions are made, with delicious food, stunning live shows, delightful holiday shopping and joyous entertainment.
View park hours, upcoming events, presentation schedules and activity times for your next visit.
View calendar
Animal experiences
Enjoy a variety of one-of-a-kind animal experiences at SeaWorld San Diego including, sea lion interactions, feeding dolphins, viewing killer whales, and more.
Rides & attractions
From the All-New Emperor, California's tallest, fastest, and longest dive coaster to kid-friendly rides like Tentacle Twirl and Aqua Scout, guests of all ages can enjoy attractions for every thrill level.
Presentations & activities
Explore the exciting world of marine animals in a way you've never experienced before during all-new animal presentations.
Seasonal events
You'll always find something fun going on at SeaWorld. From flavorful food festivals to dazzling Christmas lights, there are exciting events for every season.
Tickets + Lodging
Vacation Packages
SeaWorld San Diego welcomes vacation-goers from anywhere in the world and offers official SeaWorld partner hotel and vacation packages including a range of options, such as Eat Free, Kids Free, and Build Your Own. Whether you're traveling with family, friends, or as a couple, we have the perfect package to suit your needs and budget. Book your vacation package today and get ready for an adventure of a lifetime!
SeaWorld is one of the largest marine animal
rescue organizations in the world.
Highest standards of care
Our care team consists of hundreds of professional animal behaviorists, aquarists, zoologists, veterinarians, and dieticians. What we have learned from caring for such a diverse set of animals over nearly 60 years is what informs the success of our mission, including rescue, rehabilitation, and return.
Accredited & certified
Our marine animal habitats and animal practices are independently accredited, reviewed, audited, and certified by premier zoological and animal welfare organizations. This ensures that we not only meet, but exceed, the highest standards of animal care, anywhere. According to AZA, fewer than 10% of the ~2,800 animal exhibitors licensed by the USDA in the U.S. have met their standards, and we are one of them.
40,000 rescues & counting
Available 24 hours a day, every day of the year, our dedicated team of animal care, veterinary and animal rescue experts will always answer the call.

We're committed to protecting these incredible animals and their habitats, ensuring our promise to you: a visit to SeaWorld is a visit you can feel good about.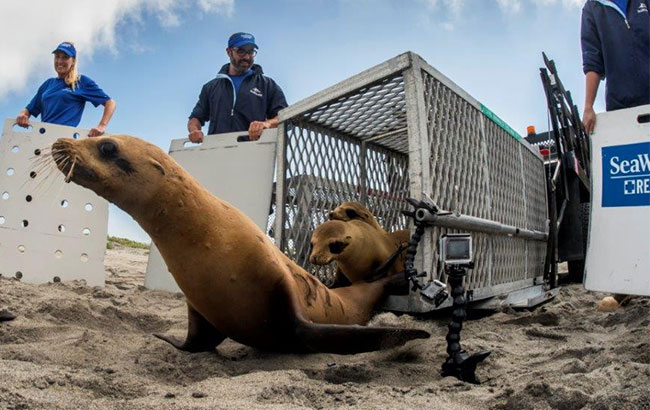 Join Our Team
We're Hiring!
Looking for a fun job with amazing perks? SeaWorld San Diego is hiring new ambassadors for roles in culinary, operations, security and more!
Now Open!
Sesame Place San Diego
Sesame Place San Diego features 18 Sesame Street-themed rides and exciting water attractions, an interactive Sesame Street Neighborhood, an award-winning parade, one-of-a-kind photo opportunities and of course, everyone's favorite furry friends. Stay up-to-date by following us on Facebook and Instagram.
SeaWorld San Diego FAQs
What are SeaWorld San Diego's park hours?
SeaWorld San Diego's park hours vary. For park hours and presentation times, please click here.
As a SeaWorld San Diego Pass Member, will I get free guest tickets?
Yes, free guest tickets are one of the many perks of being an annual pass member at SeaWorld. Upgrade your ticket to an Annual Pass and take your guests with you!
Can I bring food to the SeaWorld San Diego park?
No outside food or drinks are allowed into the park except bottled water. We offer many dining options inside the park. Try one of our many restaurants or upgrade to the All-Day Dining Deal or Dine With Orcas for an exciting dining experience.
Can I upgrade to an Annual Pass from a SeaWorld San Diego single-day ticket?
Yes, you can upgrade your ticket to an Annual Pass and enjoy the many benefits of being a Pass Member. To upgrade, please call (619) 222-4SEA or visit Guest Services at the park.
Does SeaWorld San Diego have ATMs?
Yes, SeaWorld San Diego has several ATMs located throughout the park. However, please note that SeaWorld San Diego is a cashless park and does not accept cash as a means of payment. Click here to learn more.
Does SeaWorld San Diego offer free Wi-Fi for guests?
Yes, we offer free Wi-Fi to our guests by selecting SeaWorldGuest to connect once inside the park. Signal reception may vary by location and device type.
Is cash accepted at the SeaWorld San Diego park?
SeaWorld San Diego has gone cashless and does not accept cash as a means of payment. Click here to learn more about our cashless initiative.
Is smoking allowed at SeaWorld San Diego?
Yes, smoking is allowed at SeaWorld San Diego in designated smoking areas (including electronic cigarettes). You can find smoking areas on the park map or the SeaWorld mobile app.
Is there public transportation to SeaWorld San Diego?
Yes, the Metropolitan Transit System offers daily bus service to SeaWorld from the Old Town Transit Center via routes 8 and 9. Old Town Transit Center provides connections to Amtrak, Coaster and other bus services. For more information visit www.sdmts.com.
Get updates & special offers
Be the first to hear about special offers, park news, upcoming events, and more!