General Event Info FAQs
What is Howl-O-Scream?
Howl-O-Scream is SeaWorld San Diego's nighttime Halloween event. This separately ticketed adult-targeted event transforms SeaWorld San Diego into a late-night party with haunted houses, scare zones, rides, bars, and live shows.
Is Howl-O-Scream suitable for children?
Howl-O-Scream contains intense adult content and is not intended for children.


Are kids allowed into Howl-O-Scream?
While this event is intended for adults only, children under 18 will be admitted to the event. There is no discounted rate for children. Refunds will not be provided if the event is too scary.
Where do you enter Howl-O-Scream San Diego?
Guests may begin entering as early as 6 p.m. at the dedicated entry located to the right of the main entrance.
Will there be an area to wait in the park as it transitions to Howl-O-Scream?
On nights when park close is later than 5 p.m., guests already inside SeaWorld with evening Howl-O-Scream tickets must exit the park and enter through the security screening check that leads into the designated Howl-O-Scram park entrance starting at 6 p.m.
Will the rides and attractions be open?
Yes - Electric Eel, Emperor, and Arctic Rescue will be open during Howl-O-Scream. Weather permitting.
Can I wear a costume to Howl-O-Scream?
No - for the safety of our costumed performers and other visitors to the event, guests in costumes will not be permitted.
Can I take photos and videos inside the haunted houses?
Photography and videography with no flash is permitted inside haunted houses.
Will animal habitats be open?
No – animal viewing areas will not be available during Howl-O-Scream.
I'm a Pass Member, do I need a separate ticket, and will I receive a discount to Howl-O-Scream?
Yes - Howl-O-Scream is a separately ticketed event. Please check your Pass Member portal for discounts.
As a Pass Member, will my pass cover parking and in-park discounts?
Yes - Pass Members receive free parking and discounts on in-park offerings.
No Bag Policy
What is the baggage policy for Howl-O-Scream San Diego?
Bags measuring larger than 8"x5", including purses and backpacks, are NOT permitted through the Howl-O-Scream entrance. Exceptions to this policy may be made for medically necessary items after proper inspection. Any item required for medical reasons that will be screened is to be carried in a clear plastic, vinyl or PVC bag not to exceed the size of 12"x6"x12". Guests arriving with a bag not meeting those standards will be asked to return to their vehicle.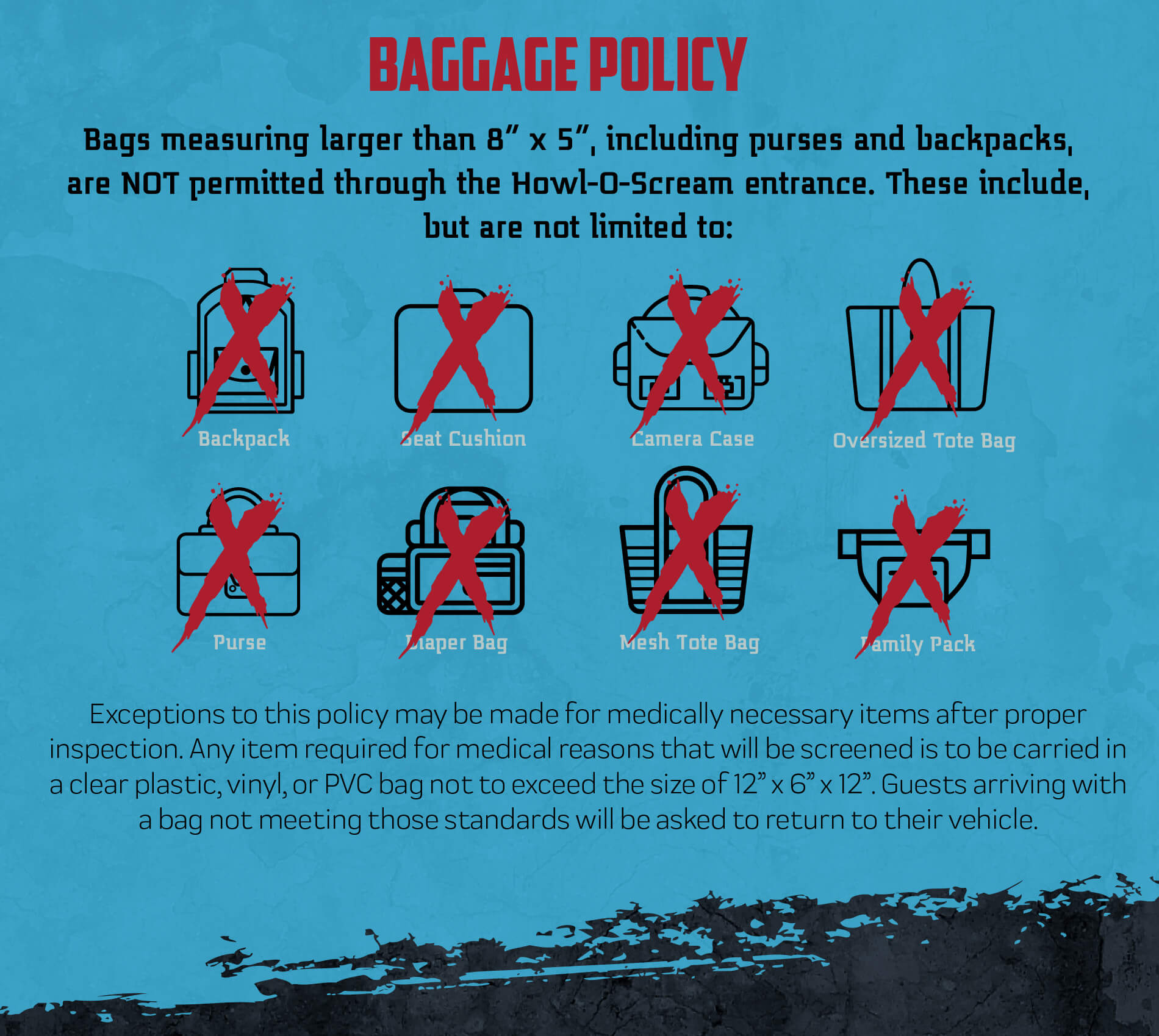 Accessibility, Health & Safety FAQs
Are motorized wheelchairs are permitted in haunted houses?
All our haunted houses are ADA compliant and wheelchair accessible, but there are some tight corners to turn. Guests will need to transfer to a standard (non-motorized) wheelchair to tour the haunted houses. Transfer chairs will be available at the beginning of every haunted house.


Sign-up for email to hear more about our haunted houses, scare zones, and so much more.
Subscribe